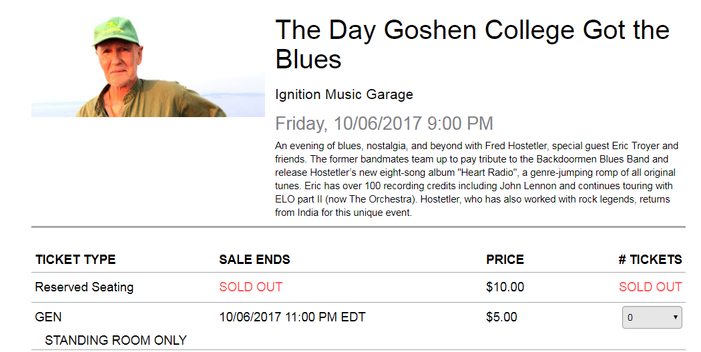 Steve Martin reflects: Fred Hostetler – Blues Tribute and Heart Radio CD release, October 6, 2017
In some ways we opened Ignition Music in the wrong era, a record store that also doubles as a venue and radio station. It would have been fantastic to have this in place when Fred and his musical friends were first playing the blues in 1967. To be able to host Fred & Friends for the release of his new album 'Heart Radio' was the completion of a 50 year cycle. I am inspired that an artist can create great songs at any stage of life.
Steve Martin - Ignition Music Garage, Goshen, IN Ignition Music Garage was recognized in 2014 as one of the Top Ten Favorite Venues in the United States by the Americana Music Association. He hosts a weekly radio show on WGCS 91.1, the Globe.
The Unbroken Circle: 3 October 2017 Ignition Music Garage - Goshen, IN
 When I walked into Ignition Music Garage for the first time, I was wonderstruck! I thought, "Am I time traveling or what? The heart and soul of rock n' roll is here in my own hometown! What a terrific venue." Nostalgia stopped me in my tracks and I just gazed at the surroundings and felt the 'music' of the place. Staring down at me from its hallowed walls were the greats, the legends who had filled life with a momentum that powered generations. Racks of vintage vinyl filled the floor and overflowed to the brick walls as did the spirit of those writers, musicians, and artists who made them. A massive collective energy of creativity was honored and immortalized here.
Smiling in admiration I whispered to myself, "This is a museum of the music and artists that have propelled me on a long hard journey through life." As Paul McCartney sang 'the long and winding road that leads to your door', my road had come full circle back to my beginnings. But vive la difference! How can it be? As Steve Martin noted in his reflection on old timers filling up the place on Oct 6, 2017, it is the completion of a 50 year cycle. The sold out crowd that night left me in awe. Trying to understand the power of music is like trying to understand God. It just must be experienced.
And so it was that I walked into Ignition Music Garage. At long last there is a real club size venue in Goshen to experience everything from national acts to the local music scene and community special events as well. May support for live music be ever increasing, flourish and prosper.