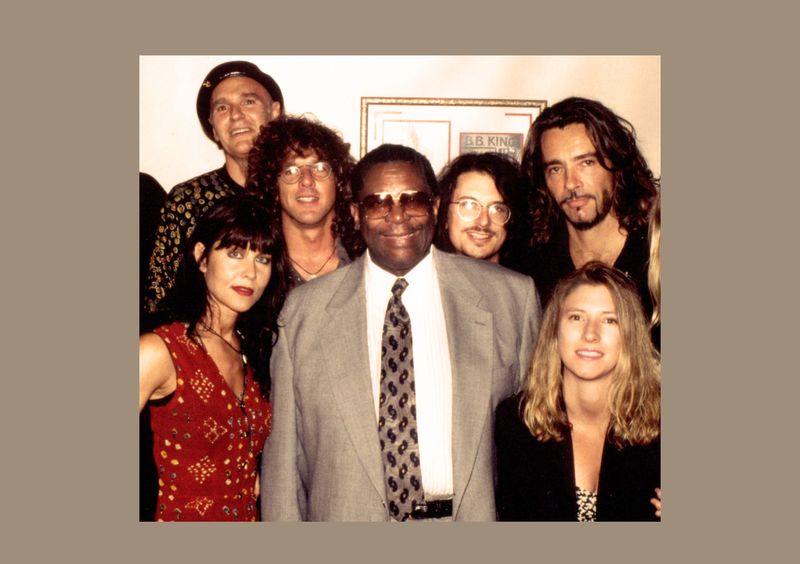 B.B. King's Blues Club - City Walk Universal City, Hollywood, CA (around 1995)
---
 This is a premier venue for live music and at the time it was doing well. Blue By Nature was given one day a month. The band considered it an honor to play there and everything was pro from the stage to the sound to the smart dressing rooms and good food.
  It was the night of our Blue to Bone album release party. When we came off stage after the first set, the place started to buzz with rumors that BB himself who was attending some function at Universal City might drop in. We finished are 20 minute break and went up for the second set. Half way through the 'King of the Blues' walked in the door. As I am looking that direction for cues and to keep eye contact with band members, I saw him with scarf and overcoat come on to the dance floor. He took a seat reserved at a special table and we finished our set.
 As he was busy, we didn't rush the table to speak him but acknowledged his presence with a smile and a wave and I believe he waved back as we went upstairs to the dressing room. Of course we were concerned that maybe he didn't like the music but all of us noted that he was tapping his fingers in time, smiling and appeared to be enjoying the show. The next thing we knew he walked into our dressing room smiling and saying hello to all of us and shaking hands with everyone. It was a wonderful; a feeling I can never forget. He was dressed high class in a silver grey tailored suit looking very sharp. He then took a moment to talk to all of us:
 "Now I especially came up here to meet you all, because you may see me get up and leave during the next set and I don't want you to think that it is because I don't like the music. I'd like to stay but I have a business meeting to attend here in Universal City. So keep on playing and don't be worried."
 After pictures were taken, he smiled, wished us well and walked out the door along with the few men who had come with him. The room was filled with the sweetness of his kindness and humility. That was part of his legend, his greatness. It was a moment to be remembered.
 Below is the link Blue by Nature 'Blue to the Bone' video at BB Kings with special guests the Memphis Horns and the original band: Karen Lawrence-vocals, Rick Dufay formerly with Aerosmith on guitar, Dan Potruch - drums, Charlie Diaz on bass guitar and myself on second guitar.
https://www.youtube.com/watch?v=EWOhwHw-8kU